Currently Camp Group gGmbH is hosting a summer institute in cooperation with the renowned Washington University, St. Louis, in Berlin. Initiator and key organiser of the project is Prof. Dr. Heather Cameron.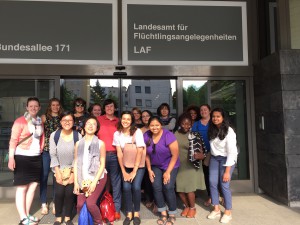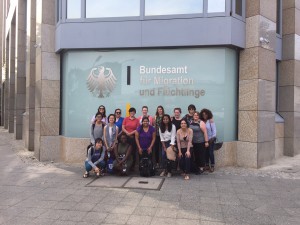 In the two-week program 18 Students from the Washington University are participating. The summer institute is focusing on the  topic of asylum, the health care sector in Germany and developing interdisciplinary approaches to solve current problems. Thus, the aim is to gain knowledge on the health care sector with regard to refugees. The students, who study social work, can deepen their knowledge about practical approaches in this field.
Further, the program is making it possible to exchange with diverse decision-makers and enables discussions and new impulses.
The summer institute will end with a conference on "migration and the public space: Best practices of civil society organisations" this Thursday.
In the last week, the students met together with Prof. Dr. Heather Cameron representatives of different institutions and initiatives, e.g.:
Seitenwechsel e.V.
Bantabaa Food Dealer
State office for refugee affairs
Weitblick e.V.
Quartiersmanagement Zentrum Kreuzberg
Health authority Kreuzberg Friedrichshain
Further, you can find exemplary impressions the students gathered last week:
Quartiersmanagement Zentrum Kreuzberg
"We work to help neighborhood residents take responsibility for their community" explained Tabea, an urban planner working for Quartiersmanagment in Berlin Kreuzberg.  "We are a communications and networking platform for community initiatives and link to government". Brown school students discussed how this approach reminded them of the work of Jason Purnell and For the Sake of All.  We also discussed how important "Teilhabe" or participation is to German urban development.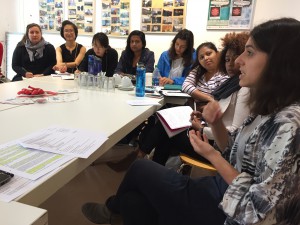 Kreuzberg Friedrichshain Health Autority
"Our job is to create equal life chances for all people who live in our district" says Sabine Schweele the head of the planning and coordination office of the Kreuzberg Friedrichshain Health Authority.  Together with Brown MPH and MSW grads and students she discussed how volunteers and professionals work together for health outcomes and quality of life in one of Berlin's poorest districts.
Lunch at Bantabaa Fooddealer
Bantabaa accociation works for holistic support and integration of refugees and helps them to manage their own future. Bantabaa Fooddealer supports the Bantabaa association financially and employs participants of the project.